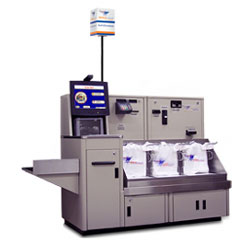 Finally a system that works! A new and efficient way to keep the "line" moving. I love to walk past all the people with their carts filled to the top, behind another person with their cart filled to the top waiting to checkout. All I have to do is go to the self-checkout, pay and go. It's awesome, till I have to be in that line, but that's another blog entirely.
Self-checkout is cool, but sometimes it seems like everyone is watching you, then all of the sudden you are flashing back to grade school. You are standing up drawing a funny picture of your teacher when he walks in and catches you and then he yells at you and tells you to go the principle's office, you freak out and pee your pants. Or something like that.
Anyway, it seems a little like that, or something of the sort. I mean the machine tells everyone what you are buying and that can be weird.
What about when you get a man or a women that gets up there and doesn't know what they are doing. This makes you feel bad for them while you are trying not to laugh. It is funny when they hit the start button and then set their stuff on the wrong side of the machine. Then you hear "please remove all items from the bagging area" or "please wait for assistance" then comes my favorite, "hey loser go to the next lane where there is a competent professional there to help you". So the last one was a stretch, but would that be a bad thing if it did tell you to move on and that you are not qualified to use this machine?
Maybe that would be consumer profiling and isn't profiling wrong? I don't know but I doubt this counts. So what you should do about it is this, if you cannot use a computer then don't use the self checkout. It's really that simple, or is it complex?