Right off the bat I will say that I am picking Pittsburgh to win Super Bowl XLIII over Arizona. They have the best defense in the NFL and were ranked #1 in just about every defensive statistical category. I do think Arizona have the better offense without a doubt behind Kurt Warner's veteran leadership and he has so many weapons in receivers Larry Fitzgerald, Anquan Boldin, and Steve Breaston but I just think Pittsburgh's D is too tough. I hope I am wrong and Arizona pulls it out.
If Pittsburgh dominates this game then I am really going to hate watching them win their second Super Bowl in the past 4 years. I still remember Bill Cowher mocking the Bengals "Who Dey" chant back in 2006 (in the 05′ AFC Wild Card playoffs) after defeating Cincinnati in a game in which Carson Palmer was tragically knocked out early in the first quarter.
Is this class?

I think not.
Also, when I see Hines Ward play I always think about his hit on Bengals rookie linebacker Keith Rivers earlier this past season. He was not fined on a play that appeared to me like he lead with his head (which is not legal), he also celebrated after the hit. There is never an acceptable reason for a player to lead with his head when blocking. If the hit was made on a QB Hines definitely would have been fined.
Is this dirty?

I think so.
(For an example of how to make a proper hit click here.)
If Arizona happens to upset Pittsburgh in Super Bowl XLIII I would love to see Larry Fitzgerald get his hands on a Terrible Towel (the symbol of this evil empire) and clean his cleats off like Bengals receiver T.J. Houshmandzadeh did a few years ago.
Was this called for?

Most definitely!
Also if the reasons mentioned above are not enough for you to root for Arizona in this years Super Bowl then you should be aware that Pittsburgh's mascot is named Steely McBeam.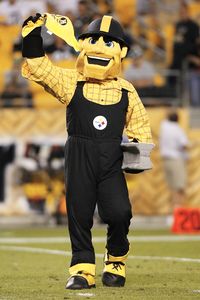 Mascots – "They are like drugs…just because everyone else is doing it, doesn't mean you have to try it too."
Go Cards!