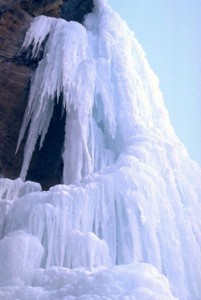 It is time to break your bondage. It is time to melt away your fear. Ice is not out to get you! So stop thinking that it is. I know, I know, it is sneaky, able to appear in multiple forms and in different colors and shapes. With some simple techniques you too can be free from your fear of ice.
First things first, recognize the problem. You are afraid of ice. Say it out loud now. You are afraid that it will stick to your tongue. You are afraid that you will slip on it, fall to the ground, look like an idiot and break your hip (which has happened countless times mind you). You are afraid that it will entice your car to play slip-'n-slide. You are afraid that it will make your teeth hurt. You are AFRAID.
Good. Now that you have admitted your fear we can move on. Let's talk about two tools that you can use to help your fear. Most likely you already know them and clutch to them as your last resort of control over the ice.
Salt. Salt lowers the freezing point of water and therefore greatly aids in melting ice. Carry some salt with you wherever you go. If you see some ice quickly throw some salt on it. Before allowing your tongue to touch an ice cube make sure to coat it with salt.
Fire. Hopefully by now you realize that you can melt ice. Carry a little portable flame thrower in your backpack. A lighter can work as well. Do not hesitate to melt some ice when you feel the fear arising in you.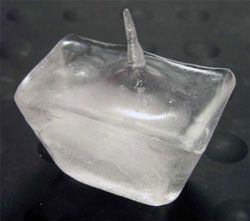 With your two ice controlling tools you will approach ice in a way as never before: with confidence. When you see ice, say, "I am not afraid of you ice". You may deploy one of your tools if you feel you cannot overcome the battle with fear in your mind.
As much as your fear controls you, you still need to create ice. Take steps to freeze some water on a regular basis until you become comfortable with it. Soon you will realize that ice can be a tool in your battle with your fear of salt… not to mention your fear of fire. Before you know it, you will wonder how you ever lived in fear at all.