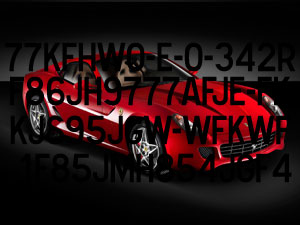 You are probably wondering what the car code is? Well, I will tell you. The car code is the unspoken, unwritten (till now) often-misunderstood rules for dudes when they are in other dudes cars.
The rules are very important if you would like to move up to shot–gun status in your group of pals, or remain in the car or even alive for that matter. The rules are very easy, so take careful notes. I will advise you that by not following these rules you will be subjected to some of the worse pranks, stunts and probably some mindless shots to the groin.


1 ) When riding in the car NEVER touch the glass, no glass anywhere, not even the flip down mirror in the visor. By no means should you ever touch the windshield or the back window. If you are any kind of man (and I employ you to double check your pants) you understand the painstaking hours that go into cleaning the back and front window… the streaks, bug guts, and dust. It's enough to drive a man mad, and now I have to wipe off your smudge marks from your hands, or your lips (when trying to pick up the chick in the car next to us) or your greasy forehead after a night of alcohol hedonism.
2 ) Next, lay off the leg crossing and the removing of your shoes. There are two problems here…one you never take off your shoes no matter how uncomfortable you find yourself. Its never cool to stink up the car for comforts sake, this also goes for the umm, how do I say it? Farting is off limits, especially if the car is newer then three years. Now that that is out of the way, no crossing your legs in my car, seriously, there is no reason for it. There is also no reason for your freaking scuff marks on my dash, that will get you beat with your own shoe.
3 ) There will be no eating… this includes snacking
4 ) No peeing in the vehicle (even if it is in a bottle)
5 ) No changing in the car (especially if it means your nakedness touching my seats)
6 ) Definitely no scratching or picking ones nose.
7 ) No making out with some chick that "seems nice" when she doesn't smell nice!
8 ) You can forget about leaning, sitting, or lying on my car, this goes for everything from watching the 4th of July fireworks to escaping hot lava coming from a volcano.
9 ) Always ask permission before altering any controls on the dash. Nothing is more annoying than someone screwing with your perfect climate control settings and the cd track without asking.
In closing, keep the code and watch your back when denying these rules. Also, watch out for more amendments to the code in future articles.
Check out part two of the car code!
*this article was featured on September 6, 2007