By Pink Lady I am not referring to a woman in a pink outfit, I am referring to an exciting apple that has become one of my favorite fruits. Pink Lady is actually the brand name of this particular apple which is a cross between a Golden Delicious and Lady Williams apple.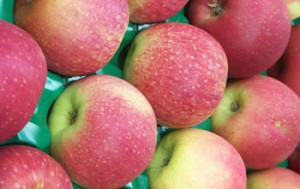 Why is this Pink Lady so unique? First of all she has a pink blush over a yellow background which makes her more attractive than most of the other apples out there. Secondly the Pink Lady has a vivacious crunch when bitten into and her flavor is tangy and sweet…it's very refreshing! She also has a longer storage life¬†than a lot of apples when refrigerated properly.
Some other reasons why you should enjoy the Pink Lady are that she is a good source of fiber and antioxidants which is something your body needs. Anyways, the Pink Lady looks good and is good for you so give her a try, she's worth the hype. Did I mention that she is from Australia?
For more info visit: www.pinkladyapples.co.uk