So before the NFL season started last year I predicted that the Cincinnati Bengals would finish 2008 with a record of 9-7. Part of the problem with making this prediction was that I made it in the month of June. Yeah I think that was a tad early considering how last years off-season and preseason went.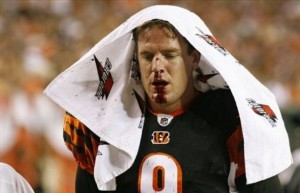 Last year Chad Ochocinco was whining about being traded, Carson had no protection which led to a broken nose in the preseason as well as no timing with his top receivers once the season began due to them not participating in mini-camps. Chad was also hurt for most of training camp and the preseason. Once the season began it got even worse, Carson got hurt in week 3 and ended up missing 12 games, a total of 23 players also ended up on injured reserve throughout the season. All of these unfortunate events contributed to a 08′ record of 4-11-1. My prediction in June of 2008 was that they would finish at 9-7.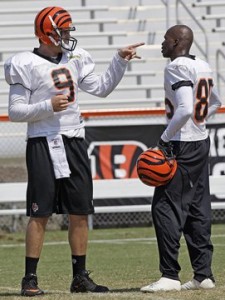 We are now at the end of August 2009, the Bengals have completed training camp and played 2 of their 4 preseason games and things are looking much better than last year at this time. In addition to overhauling the offensive line and Carson being back, I think the Bengals had a GREAT draft this past April adding OT Andre Smith (although he is still unsiged at this point), LB Rey Maualuga, DE Michael Johnson and TE Chase Coffman among others, and they also picked up some key free agents in DT Tank Johnson, S Roy Williams, and WR Laveranues Coles to add depth. Chad Ochocinco also seems to be back to his old self and he also seems to be in way better shape than last year. It's good to see him making plays again.
With all of that being said, below are my more realistic predictions for the upcoming season at this point:
9/13 WEEK 1 DENVER – WIN
9/20 WEEK 2 at Green Bay – LOSS
9/27 WEEK 3 PITTSBURGH – LOSS
10/04 WEEK 4 at Cleveland – WIN
10/11 WEEK 5 at Baltimore – LOSS
10/18 WEEK 6 HOUSTON – LOSS
10/25 WEEK 7 CHICAGO – WIN
11/01 WEEK 8 Bye Week
11/08 WEEK 9 BALTIMORE – WIN
11/15 WEEK 10 at Pittsburgh – LOSS
11/22 WEEK 11 at Oakland – LOSS
11/29 WEEK 12 CLEVELAND – WIN
12/06 WEEK 13 DETROIT – WIN
12/13 WEEK 14 at Minnesota – LOSS
12/20 WEEK 15 at San Diego – LOSS
12/27 WEEK 16 KANSAS CITY – WIN
1/03 WEEK 17 at New York Jets – WIN
*cities in all caps are home games.
There you go, I predict the Bengals finish the 09'Äô season with an 8-8 record. I think they will improve over last year both offensively and defensively, and if they can avoid injurious at key positions (especially quarterback) or positions that lack depth (cornerback, offensive line) they might be able to win a few more games and maybe sneak into the playoffs. I've learned to hope for the best but am used to expecting the worst with this team, here's to hoping!