So you're sitting around the camp fire, you've just enjoyed a few flame roasted organic all beef hot dogs and are enjoying quality company and quality conversation. This is the perfect time to bust out your favorite cigar and savor the moment, the only thing standing in your way is that you FORGOT YOUR LIGHTER!
Calm down, calm down! Keep your wits about you. There may be several ways you can get by without a lighter, below is a rational plan of action:
1) Calmly ask one of your buddies if they have one you can use.
If they don't then…
2) See if someone happened to bring some matches along.
If they didnt then…
3) Ask how they managed to create the camp fire you are sitting around, if they made it without a lighter or matches, tell them they are awesome and admit they are better outdoorsmen than you. Then go find a small log or stick (I highly recommend cedar) and insert one end of it into the camp fire until hot coals form on it. You can then use the hot coals to light your cigar. After your cigar is lit you will enjoy feeling like a rough grizzly man.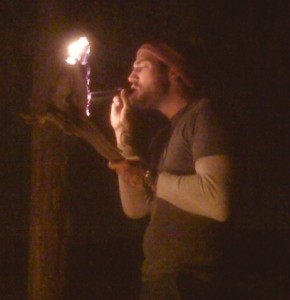 Sometimes the simplest things in life cause us to be very irrational. That is all.