Mangos are under-rated in the wide world of fruits in my opinion, but they are slowly creeping their way towards the top on my list of favorite fruits. The two types of mango that I've eaten are champaign mangos and red mangos.
Champaign mangos usually have a yellow skin color with a bit of green in there as well. The fruit itself inside is also yellow. If you eat an unripe champaign mango it usually has a lemony tart taste, but when it is ripe it is sweet and oh so good!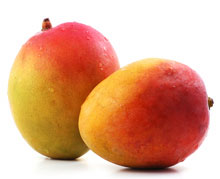 Red mangos have a red and green skin (and I believe that is why they are called Red mangos) and the fruit inside is more of an orange/yellow color. The texture of the fruit is more stringy than a champaign mango, but still sweet and tasty.
There are all sorts of creative ways to eat mangos! I would like to eat some homemade mango custard or make mango popsicles at some point. If you have any creative suggestions on what to make with mangos or other types of mango that you enjoy, then leave a comment below!