Yes! I know! Finally another article that makes you feel better about being a man. Manicles is what we call them and they inspire us, encourage us, and yes, dare I say, uplift us (I dared). Camping is what brings us together, much like group bathroom breaks bring women together. Yes… that bonding time every man needs. A real chance to canoe, scope out a cool campsite, gather firewood, kill your own meat, and even pee outside without some girl saying "that's gross, go wash your hands".
Some fresh air is nice too… and not the fresh that comes from Glade either, I am talking about the fresh that comes from pine trees and lake air. It will give a man a boost in all the right ways… including that one!
You will need a tent for starters, and if you are venturing out to an island in the middle of a lake like you know we did, then you will need a canoe. But alas, this canoe doesn't need two paddles
one will do, but only if you are a man's man. A sod shovel will do for the other oar, it works quite well as long as your not heading into a head wind. I am pretty sure that we only spun around 3 times.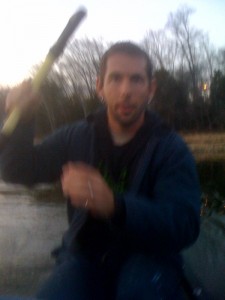 Once you get to the island make sure there are no bears by taking a quick scan for bear tracks and dung. Then set your sites on the best flat area that is not too rocky and get your tent set up. Next it's time for a fire. Yes, this is most of the reason we go camping. To sit by a fire and tell stories, cook meat, and drink beer. Into the woods we go hunting dry tinder and kindling for a nice fire. You may have to settle for big pieces of wood and frequent "that's what she said" jokes. You may need help with that log. Is that big enough. Hey slide that log over here. We are going to need more wood. Etc…
Once there is a fire you will need some seating, we made a bench with our bare hands and some pine. Ok, we found a bench out there but it was heavy and that had to count for something. Now it's time to sit back and make fun of each other, spill beer on your pants, cut your finger on broken glass you melted in the fire and light your cigar with a piece of cedar from the fire…. good times.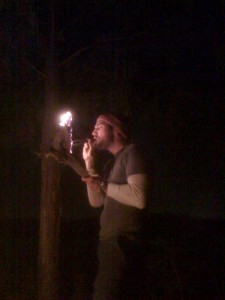 Camping is a way to get to know some dude and their loud snoring (sorry guys), as well as recharge the batteries for the next work week. Either way you look at it, it's a great time had by all in attendance. Don't forget your matches, knife (for killing), knife (for eating) and your oars!