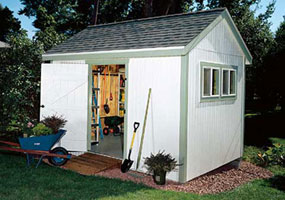 Here we are, yet another talent that will set you apart from other men, much like cutting down a tree. This is where we separate the sheep from the goats, puppies from the dogs, the crab-grass from the blue-grass. Building a shed is a lot like building a house so this will appeal to the ladies, they will think that you can build them a house, then, just like that… they are smitten by you. Unless you are already married then your wife will tell you not to mess it up and that you should probably read the instructions. HA! There aren't any, I am doing this off my own blueprint in my mind, way back in the back of my mind, right next to those directions to the grandparents lake house.¬† She will smirk, but you know what's up.
There are some things that will happen when you start a project like this. Yes, you are right, I am going to list them.
-Other people will ask you to build one for them.
-You will then have to move your stuff into the shed.
-Your wife will tell you to go outside and play in the shed.
-If anything goes wrong, like it blows down or something, or gets stolen, then it's your fault.
-Your back will hurt.
-Your hands will hurt, but you can't tell anyone or they will discount your manlyness.
Those are the downsides, but cheer up, here are the upsides:
-You will have some extra money from building sheds.
-You will already have your stuff outside when your wife decides to have a "tupperware party"
-Your wife will tell you to go play in the shed.
-Your hands will hurt so you can't help with the dishes.
-Your back will hurt and she will not want you to give her a back rub.
We are men. We will keep moving and not let anything get in our way. If anyone has a problem with that, remember one thing, you know how to swing a hammer and that has to count for something.